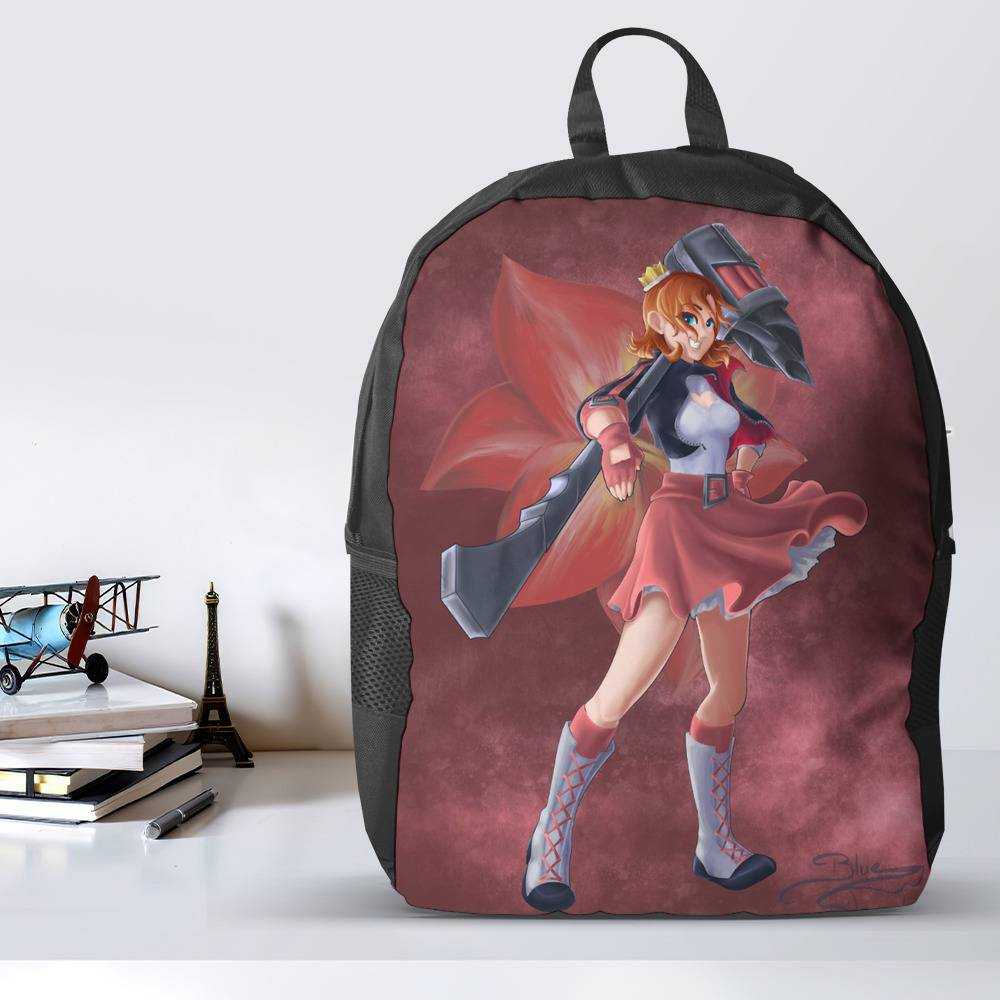 Rwby Backpack Nora Valkyrie Backpack
description

Design your everyday with Rwby backpack you will love to snuggle up with. Match your style with patterns and designs from our professional design team. Original design. Create a personalized gift with a photo of Rwby.
Material: This backpack is made of water resistant and durable Oxford cloth with metal zippers.
Product Size: 16.5" * 12.5" * 5.5"
Applicable People: Recommended for Age 6+
Applicable Scene: School, travel, climbing, shopping, zoo, park, outdoor sports, etc.
shipping

Free shipping for orders over $49

You can choose the shipping method during checkout:

Standard shipping: $7.99

Arrives 7-15 business days after the production time

Express Shipping: $29.95

Delivery 4-6 business days after the production time
RWBY Merch - Welcome All RWBY Fans!
If you're a die-hard RWBY fan, or just a casual fan looking for some great RWBY merchandise to add to your idol's merchandise collection, you've come to the right place. RWBY, like other animation characters, has millions of followers from all over the world. RWBY's merchandise is a sought-after item, and our store offers high-quality clothing and accessories for fans of animation.
RWBY - A Web Animation
RWBY is a web animation produced by the American Rooster Tooth Studio Animation Studios, created and directed by animator Monty Oum. This work uses 2.5D animation technology. The first episode premiered at Rooster Teeth Expo 2013 on July 5, 2013, and was publicly available online on July 18.
RWBY's Career
RWBY was a longstanding concept at Oum's for many years before it started development. Towards the end of work on Rooster Teeth's Red vs. Blue season 10, he developed a color-coding approach to character names and designs as a hook for the series. During the production of Red vs. Blue season 10, Oum asked series creator Burnie Burns if he could make RWBY after the season. Burns is concerned about the production schedule, telling Oum: "If you're done with season 10, then you can do whatever you want." Production on RWBY started on schedule, with the first trailer finished in two weeks, and At the Red vs. Blue season 10 finale, November 5, 2012.
Oum designed the characters with the assistance of artist Ein Lee, whose designs are inspired by classic fairy tale characters. Each character has an associated color, and the first letters of the main characters' colors, red, white, black, and yellow, give the series its name. The series was originally written by Oum and Rooster Teeth colleagues Miles Luna and Kerry Shawcross. Oum was initially concerned about a story with female characters being developed primarily by a male crew but said they were successful in developing female characters. Regarding the design, Oum wanted "to present a two-dimensional, cartoon-shaded look, but with all the depth and complexity of 3D animation". Volumes 1 through 3 were produced by the in-house animation team at Rooster Teeth's Austin-based studio using Smith Micro's Poser software, using assets built on Autodesk Maya; however, starting with volume 4, production switched to using Maya entirely, while Outsourced additional modeling and animation to Monterey-based studio CGBot. The music for the series was composed by Jeff Williams, who previously composed the soundtrack for Red vs. Blue seasons 8-10, and was sung by Williams' daughter, Casey Lee Williams.
What is in the RWBY Merch Shop?
RWBY merchandise is for avid fans of RWBY animation. Hoodies, hats, t-shirts, and Hawaiian shirts are staples of our RWBY merchandise. In addition to these top items, you can also buy other RWBY products from us such as accessories, phone cases, wall clocks, tote bags, stickers, canvas, pillows, mugs, and blankets. You can buy any product you like without worrying about quality or price.
RWBY Merch Mission!
RWBY Merch is a platform that provides customers with quality merchandise at affordable prices. Our store also provides free shipping on all orders over $49, and we promise to deliver your order in a timely manner.
We aim to provide excellent customer service because our goal is to make sure that every customer who shops with them feels satisfied with their purchase.
Got a question? Need some advice? Or having problems with tracking? Just email us anytime at [email protected]